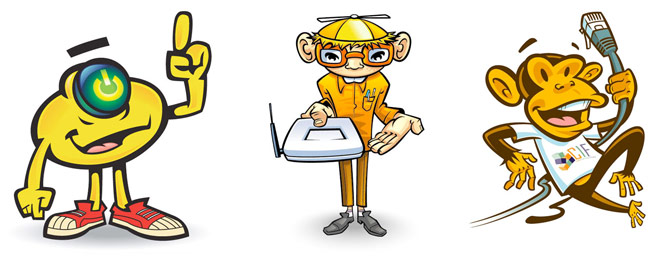 Being geeks ourselves, computer mascots are somewhat of a specialty around here. We've designed loads of mascots for computer related purposes, all with their own distinct personality.
The best computer mascots, ever
Getting yourself a strong computer mascot means being able to explore different ideas and different concepts. Only then can you decide what works for you, and more importantly, what doesn't. When it comes to computer mascots, we can create anything from ultra nerdy, friendly, edgey or even aggressive; whatever characteristics your mascot needs to have. Check our character and mascot gallery to see exactly the quality of our computer mascots.
Unlimited concepts. Unlimited revisions
We offer unlimited revisions and unlimited concepts which means you can experiment to get the exact mascot design your school wants. You can't lose!
Computer mascots like not other
Plus, you get your mascot in full color, in grayscale and in black and white. You also get your mascot design in bitmap and vector files so that you can use your mascot with no loss in quality from small usage like websites and coffee cups to large format applications like t-shirts, hoodies and banners.
Basically, we give you everything you need to use your mascot everywhere and anywhere! Check out our Character Pack to see exactly what you get when you order your school mascot graphics from us!
When you are ready, we're here to serve you up the exact computer mascot you want.